Pittsburgh's Northern Suburbs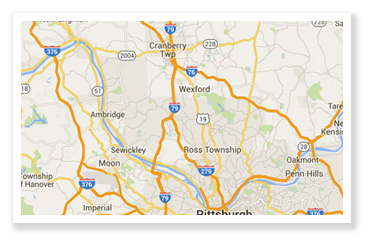 The northern suburbs are considered those areas north of the Allegheny River all the way up to, and beyond, the Butler county line. Rt 65 runs along the river to the west and services the areas of Bellvue, Avalon, Ben Avon, Emsworth, Osborn, Sewickly, Edgeworth and points west. Rt 28 runs along the river to the east and services the neighborhoods of Millvale, Etna, Sharpsburg, Aspinwall, Blawnox, Fox Chapel, Indiana Township and intersects with I-76, the PA Turnpike at the Allegheny Valley interchange. Running due north is I-79, furthest west, that serves Sewickley Hills, Sewickley Heights and Ohio Township. I-279, directly out of the city, serves the North Hills and Ohio Township and then merges with I-79 at Franklin Park. I-79 continues north through Marshall Township, Bradford Woods, Warrandale, Cranberry, and on through Butler County and points of northern PA. Rt 19 and Business Rt 19, also known as McKnight Road, is one of the cities busiest shopping districts. These pair of roads take commuters through the first tier suburbs of the North Hills, Reserve Township, West View, Ross Township, McCandless, past North Park, on to Wexford, Pine Township and Cranberry. Furthest to the east is Rt 8, traveling up through Etna, Shaler, Glenshaw, Hampton, Gibsonia, Richland and into Butler County at Valencia, Adams Township and Mars.
Growth in the north has benefited from the fact that I-279, constructed in 1989, is the only major route out of the city of Pittsburgh that does not have a tunnel to travel through. The intersection of I-79, I-279, Rt 19 and the PA Turnpike in the Warrandale and Cranberry Areas has led to enormous growth in these areas in the last 25 years and the homes in this area of the city are generally the newest in the Pittsburgh region. This is also the area that continues to see the most new home and business construction. A number of large companies, including Westinghouse Nuclear, have relocated to the area in the past 20 years, frequently just over the Butler County line due to the tax advantage over Allegheny County.
Closer to the city, the shopping district on McKnight Road and North Park have always attracted residents to this area for the close proximity to both the city and amenities. Five of the Top 30 school districts in the state, as ranked in 2015, are located in the northern suburbs, including Hampton, North Allegheny, Fox Chapel, Pine Richland and Quaker Valley.
Find a Home in Pittsburgh's North Suburbs Get More Information
Explore Pittsburgh's Northern Suburbs
Post Gazette - Pittsburgh's Northern Suburbs

The North Hills is Pittsburgh's bedroom. For years, it's been one of the region's hottest places for people working in Pittsburgh to build a new home.
---
Popular Pittsburgh: North Suburbs

When Interstate 279 North was completed, the area north of the city experienced a housing boom. In the north, you can find communities that mimic urban areas to classic suburban neighborhoods, to rural communities.
---
North Hills School District

North Hills School District, located in Northern Allegheny County, is a first tier suburb of the city of Pittsburgh. The district is comprised of Ross Township and West View Borough.
---
Avonworth School District

We serve more than 1,600 students in grades K-12 in the Boroughs of Ben Avon, Ben Avon Heights and Emsworth, along with Ohio and Kilbuck Townships.
---
North Allegheny School District

North Allegheny School District is an attractive community located twelve miles north of Pittsburgh. North Allegheny serves the municipalities of Bradford Woods Borough, Franklin Park Borough, Marshall Township and the Town of McCandless.
---
Quaker Valley School District

Quaker Valley School District is located along the Ohio River 12 miles northwest of Pittsburgh, Pennsylvania. Residents have easy access to major highways and Pittsburgh International Airport. Serving the Boroughs of Sewickley, Leetsdale, Edgeworth, Glen Osborne, Sewickley Hills, Sewickley Heights, Bell Acres, Haysville, Glenfield, and townships of Leet and Aleppo.
---
Fox Chapel School District

The Fox Chapel Area School District is a nationally recognized, award-winning school district that produces high achievement in students about 12 miles northeast of downtown Pittsburgh. It is approximately a 20-minute drive from Oakland, Pittsburgh's university and cultural center. The district is made up of six municipalities which include: Aspinwall, Blawnox, Fox Chapel, Indiana, O'Hara, and Sharpsburg.
---
Hampton School District

Northern suburban district along the Rt 8 corridor serving Hampton Township. HTSD ranks high among public school districts in Allegheny County, the Commonwealth of Pennsylvania, and in the United States.
---
Pine Richland School District

The Pine-Richland School District is a mid-sized, suburban public school district serving northern Pittsburgh along the border of Butler county. Includes the communities of Bakerstown, Gibsonia, and neighborhoods adjacent to northern North Park.
---
Mars Area School District

Mars Area School District serves the communities of Mars and Valencia boroughs as well as Adams and Middlesex townships. Our District has always been associated with forward thinking, quality consciousness, and high educational standards. Our District has three elementary schools, a middle school and a high school. Enrollment (K-12) in our five school buildings is approximately 3,250 students.
---
Seneca Valley School District

The Seneca Valley School District, 124 Seneca School Road, Harmony, PA, is a suburban district located in Jackson Township, Southern Butler County, Western Pennsylvania. It is approximately 30 minutes north of Pittsburgh, is in close proximity to the Pennsylvania Turnpike and is adjacent to Interstate 79. The district covers 100 square miles and includes Cranberry, Forward, Jackson and Lancaster townships and Callery, Evans City, Harmony, Seven Fields and Zelienople boroughs.
---